Our Team
Matt Rachocki
Matt was born and bred in a small town in Northwestern Pennsylvania and at the age of eighteen, headed to NYC for a change of scenery. While in college, he made it a priority to travel, work, and study across the globe. These experiences, along with the desire to inspire drastic change within the hospitality industry, fueled the creation of Choice Productions. But Matt wasn't ready to stop there. Using his new found entrepreneurial passion, he entered the bar and restaurant business in his hometown. By transforming an old schoolhouse into a tavern, a deteriorating historical landmark became a preserved hangout unlike any other. With the help of his brother, he then ventured into the craft beer industry and became an owner of Voodoo Brewery. Voodoo now operated two pubs and restaurants with a food truck and distributes selectively across the country. Currently Matt, with the help of his wife, are dabbling in the interior design market by bringing their creations and furniture making to events and homes near you. Matt credits much of his success as a young entrepreneur to his outstanding support base of family, friends, staff, and clientele.
Anna Rachocki
While pursuing a career as an indie musician, Anna received a BS in Communication Arts and Business from St. John's University and worked part-time in the hospitality industry. She released her debut album, "Friction in Some Direction" on her own indie label, Dank Records, and went on a mini-tour around the Northeast region. Once she moved back to rural Pennsylvania, she then took over all accounting responsibilities for Choice Productions. While designing and decorating their new home, she and her husband also got the idea to start the rustic home décor company, Knot 2 Shabby. When not bookkeeping, Anna can be found at home raising her son, working on home projects, and occasionally writing about it on her personal blog, Homesteady Life.
Adam Gold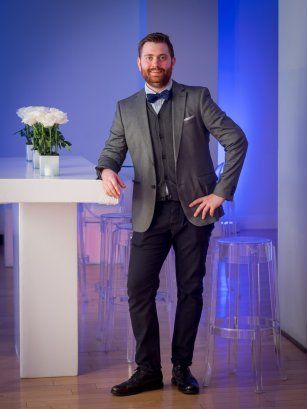 Adam, a former ballet dancer, has been in the Hospitality business since he was 14. Starting as a bus boy at a fine Italian restaurant in Freehold New Jersey, he eventually became a floor manager before leaving for College in New York. While perusing a BFA in Dance, and a Business Degree at Marymount Manhattan College, he had the chance to work with New York's biggest dance companies and choreographers. However, it was his work at some of New York City's finest restaurants as a server, bartender, and manager that would truly inspire him. While working at Nice Matin, Trata, Barbunia, Bar Boulud, Daniel, and Café Cluny, Adam learned the mechanics, technicalities, and peculiarities of the hospitality business. As a result, after college, Adam perused a job as a manager at Justin Timberlake's new 45th and 9th BBQ establishment, Southern Hospitality.  While at Southern Hospitality, Adam eventually moved up to the position of General Manager. However, while he loved the job, another passion had come to his attention. This passion was event planning and production. During his tenure at Southern Hospitality, Adam had the opportunity to plan and execute multiple large-scale events for clients such as Justin Timberlake, The New York Yankees, One Republic, and Armand Di Brignac. After hosting an event for Choice Productions NYC in their lounge space, Adam saw another career path open before his eyes. In August of 2013, it was his pleasure to join Matt and Anna Rachocki, as well as the Choice Productions NYC team. He has truly cherished every moment. It is his restaurant background that gives him a true passion for hospitality, and desire to provide quality staff, food, and beverage; It is his business background that drives him to develop lasting client relations; and it is his artistic background that inspires his attention to every detail of your event. Adam is thankful that he has the opportunity to work a job he loves every day, and looks forward to accommodating any staffing or event productions needs you may have.